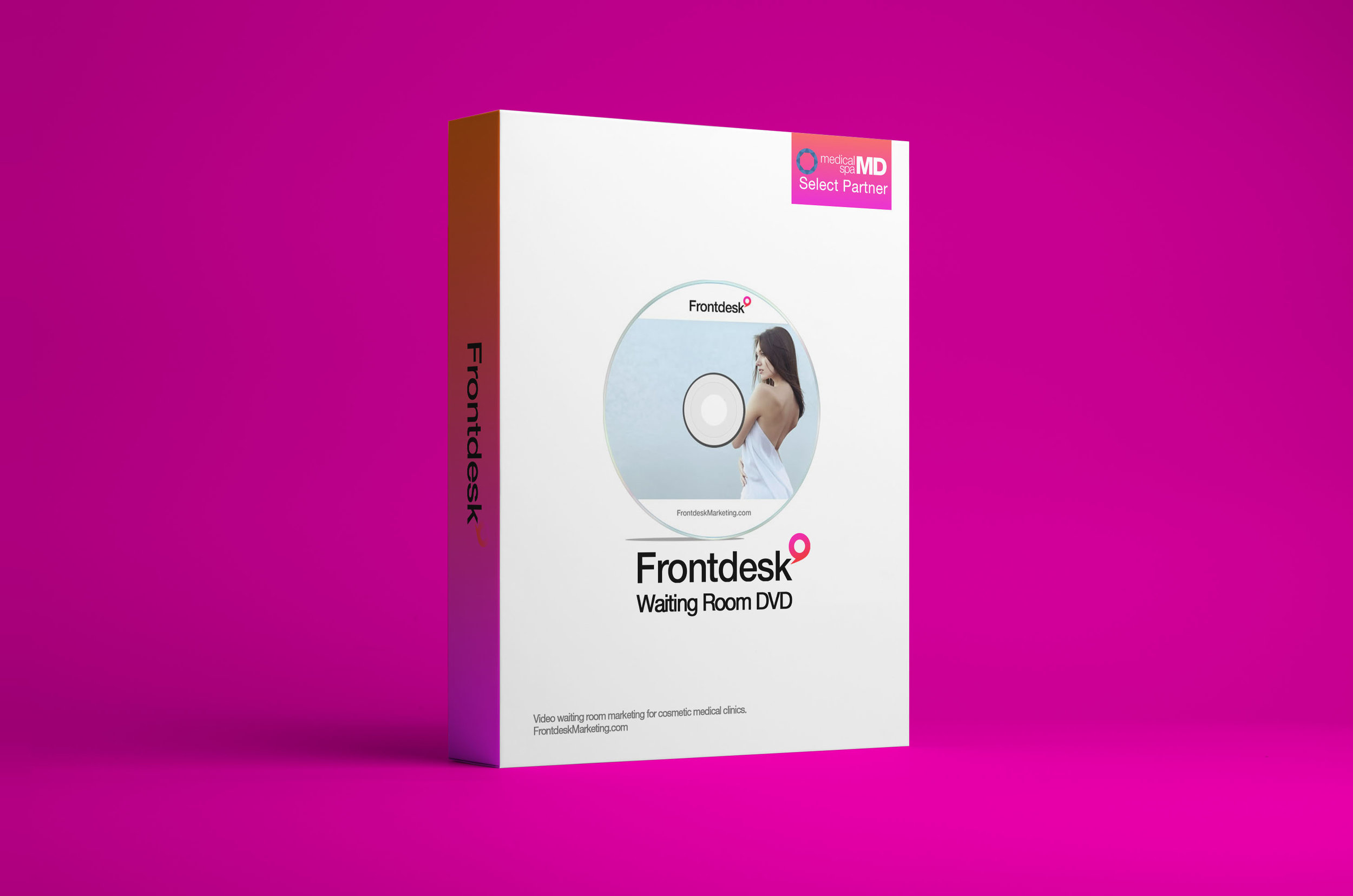 Waiting Room Marketing Videos
Member Offer: Save 54% on your custom waiting room video.
Simple, powerful marketing videos for your waiting room.
Have questions? Call us at (435) 554-8160
Waiting room videos are the single most sure-fire, bang-for-the-buck marketing investment you can make. You'll communicate exactly the right message to a captive audience, showing your patients all of your treatments and services. Your patients will start conversations, The result? More new treatment inquires, more upsells, and a more profitable cosmetic practice.
Our beautiful, custom waiting room marketing DVDs are the perfect sales tool for physicians, dentists, chiropractors, laser clinics, days spas, medical spas and any other cosmetic medical business with a waiting room or lobby! Take a look at the videos below and imagine the conversations that your patients will start with you and your team.
A few examples of waiting room video marketing.
Frequently Answered Questions
What is waiting room video marketing?
Simple. It's perfect marketing.
Putting a jaw-dropping, attention grabbing video in your waiting room or lobby is a perfect way to add revenue and profits to your businesses bottom line. The benefits are obvious. You're marketing directly to a captive audience that's already in your business with information about your products and services. Your clients will be entertained at the same time that you're educating and informing them of the scope of your services. Special offers? New services? Packages or gift certificates? Video marketing will 'soft-sell' your clients and get conversations started that result in increased sales!
What's the difference between the 'regular' and 'Custom DVDs'?
The amount of work and customization involved.
The regular DVDs and videos include general messaging like you see in the videos above and are produced individually for medical spas, plastic surgeons, dermatologists, etc. Regular videos also include a 5 second watermark that says 'Created by Frontdesk' and has our website. Custom videos are longer and go much further with customization, allowing you to include your own copy, script, additional treatments, your own images and video as well as very specific messaging. Custom videos also take a little longer to produce. There is no watermark on custom videos and they are created in 720i HD video.
What options do I have with the customized video?
Please be aware; "customized" does not mean "custom". To keep the pricing at this level we do not offer the ability to 'approve' or 'edit' your video once we receive the content that it will contain. Your customized video will include your specific treatments, images, and logo, and will be of the same quality and effect as the demo videos on this page, but you will not have the ability to 'edit' or 'revise' your video at all at the flat price. (We do offer that option but it will be billed at an additional $170/hr.)
What should I use my video for?
Driving more sales silly.
We're not kidding when we say that a waiting room video can pay for itself in the first hour. We're experts at online strategies that produce results for brick and mortar businesses who need to drive local traffic to their website, and retail location. Our expertise ranges from scalable technology solutions, to using social media, PR, and special events. The list of what we can do is exhaustive. Contact us and learn how we can move the needle on your sales-speedometer.
What should I put in my videos?
Well, that's up to you... but you're in good hands.
We've been building these videos for ourselves for years and we're really, really, good at it. Our advertising and marketing chops were honed on campaigns for companies that you may recognize, like Intel, Microsoft, Surface Medical and MSN. You can be sure that the services we provide are the same enterprise-level campaigns that we're already know for.
How long does it take to produce my video?
Usually between 7 and 10 days.
Video production is time intensive but we keep things moving. Once you provide all of the images, video and copy that you want to include, you're usually looking at as little as 3 days for a short web clip, and as long as 10-12 days for a 10 minute waiting room or lobby video. Note: This depends upon our backlog and we can experience delays. Call us if you need this rushed.
What's the best way to use video?
If you have a waiting room or lobby. Start there.
If you're not using video in your lobby or waiting room, you're leaving cash on the table. It's a must have for any serious business since it's so simple, and it works so well. We've had clients that covered the cost in new sales the first hour that they turned it on. It is absolutely the best bang-for-the-buck marketing that you will ever have.
How do I play this in my waiting room?
Ah... usually on a TV. If you order a waiting room video, we'll ship you a DVD that will pay in any device that plays a standard DVD. Our clients usually use either a small DVD player (you can get one for about $35) or a computer that can play DVDs (most can). Then you hook up a computer monitor or television, turn it on so that it 'loops', and viola, you're in business. Here's a post on Setting Up Your New Frontdesk Waiting Room DVD.
Will the video "loop" automatically?
Not by default, but it's easy to set up.
None of our videos loop automatically by default. However, most newer DVD players have this option and it's usually not a problem. (You can buy a DVD player with this capability on Amazon for $35.)
**Our Customized Videos can be programmed to loop automatically but there's an additional charge of $150 to do this since it's a headache...
Is the music included?
Yes, with web videos. All music licenses are included with our videos. (If you're running a waiting room video you probably don't want music since your front desk staff will go insane after the first day.) Our marketing videos are paced at a tempo that will fit your business no matter what it is.
Can I pick the music?
Not with standard pricing.
Our marketing videos are paced at a tempo that will fit your business no matter what it is and you can see examples of how well this works in the videos above. However, if you have the rights to a song or soundtrack that you want to use, we can add that for you for an additional fee.
Can I use the videos on this page?
Nope. These videos as well as all of the images, copy and headlines are copyrighted and are used exclusively to promote and advertise our services. The videos we create for you as a Frontdesk client are customized and will include your logos, tag lines and images. If you wish, you can also include your own videos, pictures and anything else you want.
What am I actually buying?
You're buying a single license.The license you purchase allows you to use a video in one location, or to promote one business online. You don't have the right to resell our videos or use them in any way that conflicts with our terms. As long as you're not doing something shady you're going to be fine.
What's the next step?
If you've decided what you need, just sign up. We'll send you a brief survey to collect the information we need and get started right away.
If we need more information or have additional questions, we'll pick up the phone and chat.
What do I do after I get my DVD?
Read this post: Setting Up Your Frontdesk Waiting Room Video which should help you out with what you'll need and how to put it all together seamlessly.