The following is a story from the Medical Spa Embezzlement & Employee Theft Scams Report which contains information for physicians and medspa owners to understand these scams and find out how to protect your cosmetic clinic.
The complete report is available for free to all Medical Spa MD members.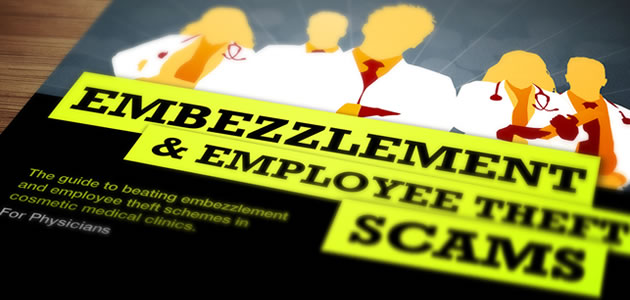 Beware anyone taking complete control of the books and the bank deposits.
Our embezzlement story has some classic elements: a break down in financial control procedures, an employee (bookkeeper) showing behavior changes and a drug problem, and a manager and a boss not paying close enough attention.
I have a solo private practice of plastic surgery with skin care services. At the time, we readily accepted cash payments, even for surgical procedures.
My practice manager was responsible to review the daily close, checking the work of the full-time bookkeeper. The manager was to make the bank deposit daily and attach the deposit receipt to the daily close. I would normally check our financial statements at my meeting with the manager every other week. It turns out that we missed one of our meetings, (because of schedule conflicts, being "too busy," or the usual excuses/reasons that we end up skipping an administrative meeting) and I didn't ask to see all the reports, anyway.
I became concerned when I noticed some behavioral changes in my bookkeeper, including erratic hours, late for work, leaving the office during the day.
When I discussed this with my manager, she noted that some of the daily reports were coming inconsistently. I asked if the manager was getting the daily close and making the bank deposit; my manager (now "buddies" with the bookkeeper) explained that the bookkeeper had taken this over "to help, since she saw I was so busy."
The short story: the bookkeeper was pocketing all the cash and depositing/ recording only the credit card and check deposits, "cooking the books" to try to hide the missing cash. Fortunately, we discovered the ploy within a short time; our audit showed a loss of less than $11,000.
I brought in an HR attorney for the termination of the bookkeeper and the manager and filed a report with the Sheriff.
We subsequently learned the bookkeeper had developed a Vicodin/codeine habit from a fairly recent injury.
When the bookkeeper left the state, without forwarding address, and "could not be found," we did not invest in prosecuting, on the advice of the attorney.
Lessons:
Have secure financial/bookkeeping controls: Have a daily close. Make sure that the person who collects is different from the person who checks/records. Use a third person to make the deposit.
Verify compliance with these procedures ("Trust, but verify!").
No matter how "busy" you get, check the daily deposit.
Hold yourself accountable,as well!
Erratic behavior is a warning sign of something worse. Trust your gut. If something "doesn't seem right," check it out, sooner rather than later.